Congratulations QUEEN IFRICA
QUEEN IFRICA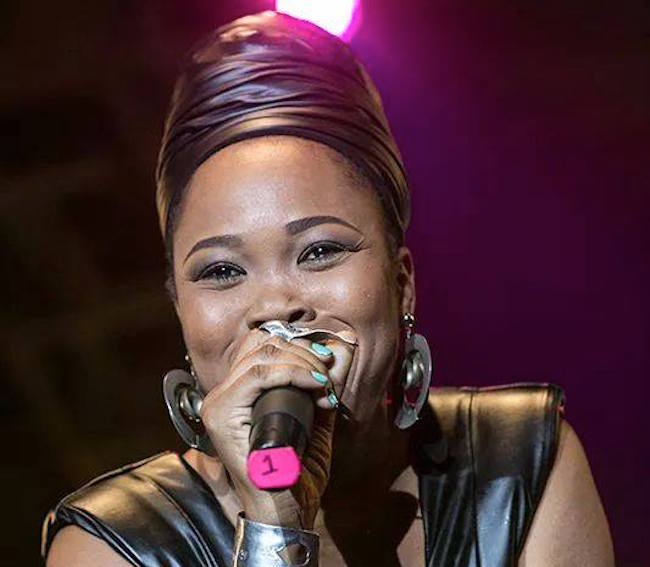 Queen Ifrica began her career in 1995 after shining at a local talent contest in her hometown of Montego Bay, Jamaica. This eye-opening experience eventually led to major stage performances in her country including the esteemed Reggae Sumfest as well as a union with Tony Rebel's Flames Crew in 1998.
With roots firmly secured in the Rastafarian faith, she blossomed as one of the top cultural artists in reggae, swarming the airwaves with hits like "Randy", "Jus My Brethren", "Below the Waist" and "Daddy" and stealing the stages at major festivals and stage shows around the world (Summer Jam in Germany, Sierra Nevada World Music Festival, Bob Marley Festival, Reggae on the River in California and Reggae Sundance Festival in Holland). As an active community leader, Ifrica is involved in several outreach programs for children in Jamaica's inner-city and charity shows where proceeds are donated to the cause.
She signed a record deal with VP Records, leading to the release of her first album, Montego Bay, in July 2009. Her second album, Climb, was released in March 2017, and topped the Billboard Reggae Albums chart.[4][5]
Reference: Wiki
——————————————————————————————————————–
ARTIST/ PRODUCER/PERSON OF THE MONTH ARCHIVES
May 2023 QUEEN IFRICA
April 2023 BARRINGTON LEVY
March 2023 MARCIA GRIFFITHS
February 2023 SANCHEZ
January 2023 BEENIE MAN
December 2022 KABAKA PYRAMID
November 2022 SHAGGY
October 2022 EVERTON ROY COLLINS
September 2022 TANYA STEPHENS
August 2022 Happy Retirement Djay Steve!
July 2022 Artist: PINCHERS
June 2022 Artist: ABAJONAI KUSHITES
May 2022 (Producer of the Month) COMPUTER PAUL
April 2022 (Tribute a legendary Mighty Diamonds) TABBY DIAMOND
March 2022 (Women's Month) Artist: LADY TIA
February 2022 (Reggae Month): Tribute to Crowned Prince DENNIS BROWN
January 2022: Artist: ANDREW BEES
December 2021: Artist: ANTHONY CRUZ
November 2021: Artist: NOVEL-T
October 2021: Artist: O.C. ROBERTS
July/August/September 2021: Summer Break! Enjoy!
June 2021: Artist: CHRISINTI
May 2021: Artist: MIKEY MELODY
April 2021* Poetry Month* Artist: YASAS AFARI (Grammy Award Nominee)
March 2021 *Women's Month Artists* PAM HALL, CHYNA NICOLE, & CATHY MATETE
February 2021*Reggae Month* Artist: YASHEMA MCLOUD
January 2021: Artist: JAHBAR I
December 2020: Artist: CONGO MAN